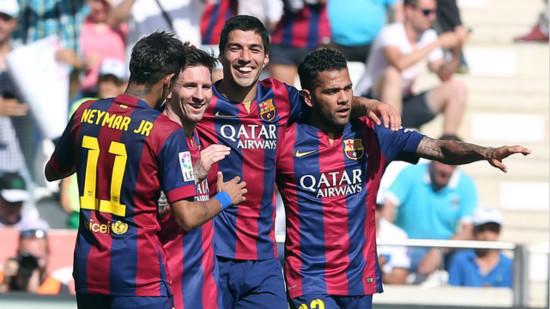 Barcelona made history three 8-0 victories in the league away games.
Barcelona flat Away team history the greatest number of league goals score Pobai
8-0 victory over Cordoba match, Barcelona has created a number of good results. First, it is the largest margin of victory this season, Barcelona made. Meanwhile, Barcelona tied the biggest margin of victory on the road in 1959/60 season to create, this is the third time made the score Barcelona's victory on the road.
1959/60 season, Barcelona away defeat Palmas, goalscorers are Martinez Suarez (3 goals), Evaristo (2 goals), Villa Wald and heat Sanaa.
2010/11 season, Barcelona second on the road made the score 8-0, the match is Almeria, goalscorer is Lionel Messi (3 goals), Iniesta, Askar Xi Yete (own goal), Bojan and Pedro (2 goals). It is worth mentioning that in the two season, Barcelona have won the Spanish league title.
In the 2014/15 season the first 35 La Liga, held the day before, Barcelona 8-0 defeat away to Cordoba, who is scoring Suarez (3 goals), Messi (2 goals), Rakitic, Pique and Neymar. Messi scored his 40th goal in La Liga this season, but also in all competitions 51 balls.
Barcelona in the Spanish league goals this season, broke through the 100, he has made 105 goals and only conceded 19 goals. In the case of the last three left, and Barcelona is expected to impact better results. In all competitions, the team on the road Enrique scored 60 goals, scored 65 goals at home.