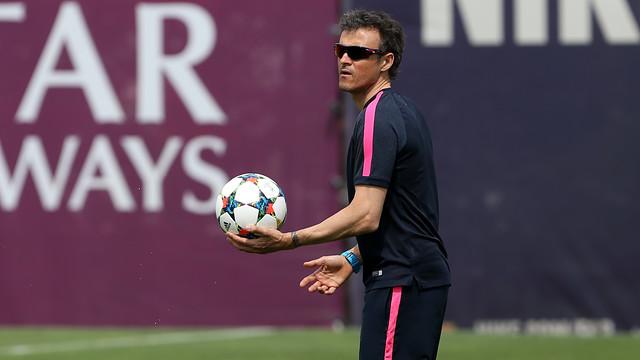 Enrique said that Barcelona and Guardiola's game will not become "old friends meeting", the two sides will qualify for eligibility and doing all.
Enrique believes that although there are several players Bayern injury, but the depth of the opponent's lineup is very powerful, state Cod A new champion of doubt.
Enrique: often watch Bundesliga champions Bayern game state Masamori
14/15 UEFA Champions League semi-final first leg the day before, Barcelona coach Louis - Enrique attended the official UEFA press conference. Enrique said:. ". Only a football field, and both sides want to control it, we will strive to do our best and we must be careful to put the game will be very attractive," Enrique said: "The details will be determine victory. We have a lot of talented players, but the strength of the opponent is also very good players, then look fit and I believe the home fans will create a great atmosphere, helping us become more powerful. "
Although the number of players in the Bundesliga champions injury, but Enrique insisted: "Bayern squad is strong enough, even with a few people absent, it will not affect the strength of Guardiola has achieved great success, he gave. Bayern injected some of his own stuff. aside opponent's identity, I actually enjoyed watching Bayern Munich, their offense and defense are commendable. "
Guardiola to opponents came as the Nou Camp, Enrique shared the view of reporters, he also believes that the game has a special significance, but he also said: "We do not put the game as a friend would. To know that only one team can qualify for the importance of the game speaks for itself. Our players will not encounter former coach and distracted. "
Barcelona scored 14 goals in the last two games, Enrique said this: "Although we scored a lot of goals, but the team still exposed many problems in fact, sometimes not compact formation, especially when we press on When the attack to the opponent to leave the space and opportunity. Next we must also pay attention to the defensive in the attack, at any time be able to recover. "
Enrique worked with Guardiola club teammates, both served as captain of the first team. When asked about the situation in those days, Enrique said: "I and Guardiola is an old acquaintance, mutual familiarity I'm sure he will make out all the stops to make trouble for us, but we have addressed the team before. some of the problems left behind, and proved it in many games. We will play our own stuff due against Bayern Munich. "
Barcelona goalkeeper division is Bravo playing in La Liga, Teershite root kicking Cup, Enrique confirmed Teershite roots will serve as the starting goalkeeper in the Champions League semi-final, he said: "We are two very outstanding goalkeeper , both of them I had no particular preference. Teershite root goalkeeping is outstanding, but also very good footwork, and can deal with the pressure. We demonstrate for the first season after he joined satisfied and happy. He is still young, there is still much room for improvement. "
Finally, Enrique sent an appeal to the Nou Camp fans: "We will continue to participate in the competition, because we do not know what other way, of course, playing in front of his home fans and away the feeling is not. the same, I believe that behind the fans will create a great atmosphere that allows our team become more powerful. "