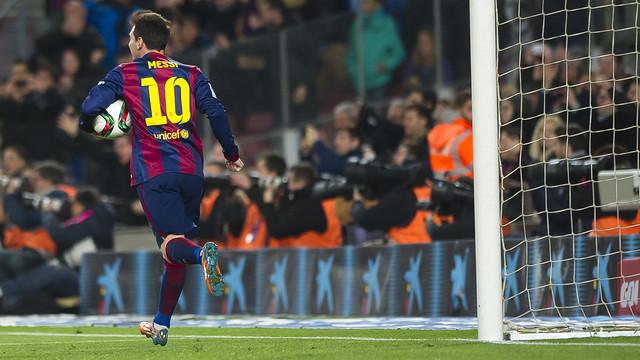 Pique and Lionel Messi, Neymar, Suarez, Sandro, like all scored goals in three competitions.
After obtaining the King's Cup semi-final first leg victory, Barcelona first team on Thursday to return to the training ground. Let's first look at some of the important data related to the game, and then introduce the team training situation.
King's Cup Data
- Since January 4, Barcelona in 10 games scored 37 goals, lost 8 ball.
- Team in the last five games scored 20 goals: Elche 6-0, 3-2 Atletico Madrid 3-2 Villarreal, Athletic Bilbao 5-2 and 3- 1 Villarreal.
- After the break Villarreal goal, Pique has scored goals this season in La Liga, Champions League and King's Cup. He and Messi, Neymar, Suarez, Sandro, like all scored goals in three competitions.
- Just over half of the season, Pique has created a personal career goals in a single season best score, he broke the APOEL, Espanyol, Cordoba, Elche and Villarreal's goal.
- Neymar penalty throw a penalty, which is Barcelona players who missed a penalty third time this season, after Messi in the game against Levante and Athletic Bilbao's game the same penalty throw penalty.
- Wednesday night Rafinha, Iniesta and Mascherano midfield trio composed for the first time, where Mascherano rear.
- Mascherano successfully completed a total of 86 passes, four passes turnovers.
The training
On Thursday, the first team returned to the Gamber Sports City training ground. Participated in the King's Cup semi-finals of the players who have completed a number of modest recovery, other players have participated in strength training, individual training Pique and Andres Iniesta.
Since January 19 injury, Douglas returned to the training ground for the first time. B team teenager Munir also attended the first team training.
Friday holiday
On Friday, the first team a day off. Under a training session will be held on Saturday, followed by Sunday's home game against Levante in La Liga.
[Related Information] Recent Champions League opponents
In less than two weeks, Barcelona will be in the Champions League final against Manchester City 1/8, let's introduce the Premier League this situation.
February 12 ended in the first 25 Premier League, Manchester City 4-1 away victory over Stoke City, who are Sergio Aguero scored, Crouch (Stoke City), Milner, Aquinas Lo and Nasri. Manchester City is currently ranked second in the Premier League standings, seven points behind leaders Chelsea.