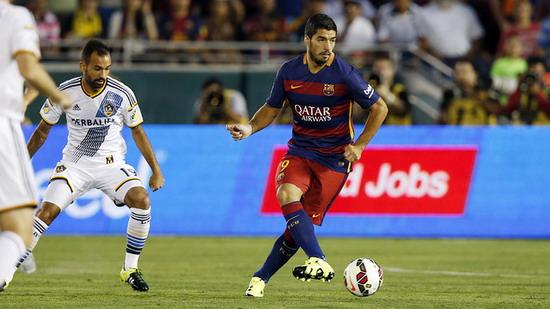 Douglas, Virginia Mullen, Suarez tour opening match against the United States for evaluation.
Suarez: the team scored more confidence stems from the opportunity to capture
"I am very happy because the team gradually adapt to, and feel more confident. Not see the results, and more importantly, our own good condition." Suarez after the match concluded.
Uruguayan team preseason first player to score before halftime temporary break. "This is a chance to catch in the penalty area, defender wants siege, the ball came to me, and I shot in." He explained the situation.
Douglas:
"The competition process and the results pleasing. Although the team have a lot to improve. Team coach can do the requirements, I think we'll make progress."
"I feel good, just like at home from the first day I came to the team feel good, and his teammates get along well."
"The coach asked to do what I do. I work hard every day, I think they can achieve requirements of the coach."
Weiermalun
"Last season plagued by injuries, but now I feel good. I'll keep training, looking forward to the next few games performance."
Jose - Suarez
"This is the first warm-up match, the team performed well. We'll look at the next few games to play."
"I'm not surprised a lot of people came to see us. Barcelona fans all over the world, this is normal."