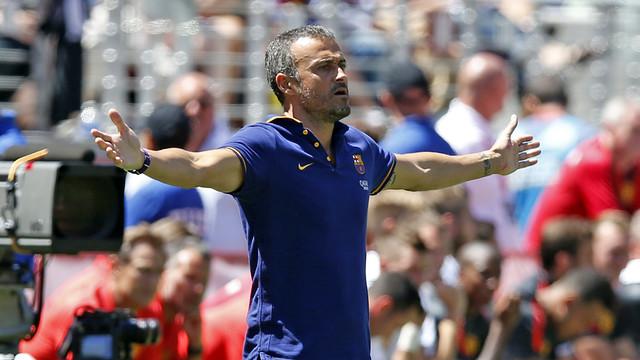 Enrique believes that Barca must forget the identity of the Triple Crown, scratch the face of the new season.
Enrique praised Van Gaal and Manchester United.
Enrique: Barca must forget the triple crown scratch hit the new season
Barcelona and Manchester United at Levi court warm-up match, the Blues lost 1-3 red, Saihoubasa coach Luis - Enrique attended the reporter conference.
Enrique first said: "In the United States, soccer is a very different sense of movement I found that Americans also love football, not like a lot of people say that the Americans play for fun, there is also full of passion. . and poetic fans here also touched me, they passionate "Enrique praised the US Court:." Obviously, this is the top of the stadium, I know there are many such outstanding US court, indicating that the United States Football soil is great. "
Talk about the game, Enrique said: "Overall, the two sides played a very good game of played a good level." Performance for Barcelona, ​​Enrique admitted somewhat disappointed: "We behaved Let me slightly disappointed at the lack of cool opportunity, we hit the woodwork three times. "
Enrique went on to say: "hitting the woodwork is part of the game, you can explain something very obvious today that we did not reach the level of the end of last season, of course, in addition to hitting the woodwork, we have created a lot of opportunities..."
Enrique said: "Our players should learn from this game, and if such a state to meet the next game, that will undoubtedly hurt both teams."
The game Sergi - Location Roberto, Enrique explains: "Roberto played right-back is an alternative to his technique is very comprehensive, you can have more choices, and of course we have better. program. looks like he did a good job playing right back. "
About Douglas did not play, Enrique explained: "Douglas absent because of health reasons before he felt ill, we do not want to take risks.."
Dialogue with Van Gaal
Enrique has worked with the players during the former Barcelona coach Louis van Gaal had common ground, it comes overwhelmed reunion, Enrique said:. "He and I talked for five minutes I'm glad he was a great man, I have encountered one of the best coaches I have fond memories of him. "
Enrique think Van Gaal will be able to lead Manchester United to create a brilliant: "Having such a coach Van Gaal is a blessing for any club, I believe he can create one of Europe's top teams."
Looking ahead to the new season, Enrique said: "The next season is new, a lot of things happen, there are a lot of unknown identity of the difficulties that we have to put down the Triple Crown, scratch Manchester United is the same, they can. do as well, they are a great club. "