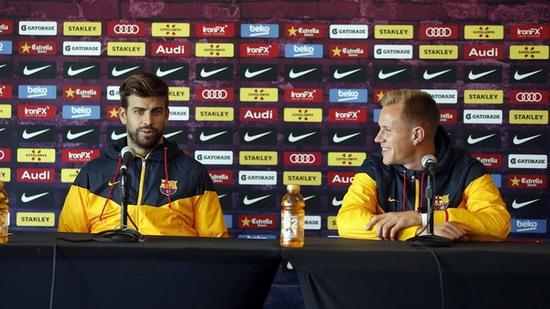 Pique and Teershite root attended the news conference in Washington.
Pique: To contribute to the development of US soccer
After arriving in Washington, Pique and Teershite root at the press conference to discuss the team's trip to the United States and a number of subsequent events.
Pique
About the preseason:
"The most important thing is to get back the rhythm of the game to prepare for the Super Bowl from a physical condition."
"Despite the loss yesterday, but the team is still very high level of play."
"My own physical condition is good. We walk on the right track."
On training and competition in the United States:
"In this world the greatest nation, football is not the most popular sport, but we hope that it will gradually develop, I think we have contributed to. This is what we need to do, because we are the best in Europe one of the teams. "
About the possibility of captain:
"Although I am not the captain, but I'm on the team also played a key role."
"Whether the future is to become captain, I will continue to play an important role in the team."
"I want to be captain in the future, but this is not what I want to do a sleepless night."
Teershite root
Early on the holidays:
"I decided to rejoin ahead is correct, because I can not wait, I feel in good shape."
About the preseason:
"I like to team together to prepare for."
"This is my second year in the team, for a lot of things more familiar."
About playing in different events
"Kick La Liga or the Champions League, it's not for me to decide things, it depends on the coach. I hope to get more opportunities to play, I will train hard for the debut in all competitions."