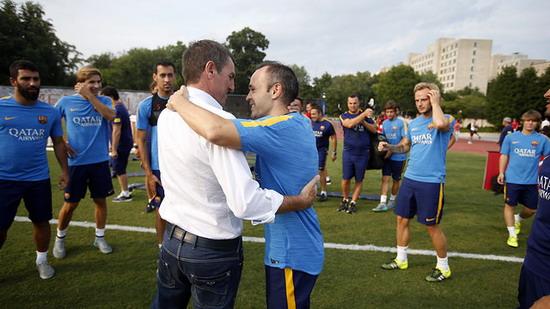 Team at American University in Washington training. Douglas training alone.
Barcelona first training new technical director appeared in Washington
After the defeat by Manchester United on Sunday, the team regrouped training, this time to the American University in Washington centers.
Trip across the United States, local fans are very enthusiastic, whether it is training venues, hotels have gathered a large number of fans.
Fernandez, director of new technology and join the team, Bartomeu also came to watch the training.
Organized training
Douglas individual training, while the other players in the warm-up after the completion of the project into the traditional training.
Suarez, Pique, Rafinha, Virginia Mullen, Roberto, Alba and Iniesta maximum that several players playing time ahead of the end of training.
The other players took part in the evening training, including mini-games, there have been many wonderful goals and individual performances.