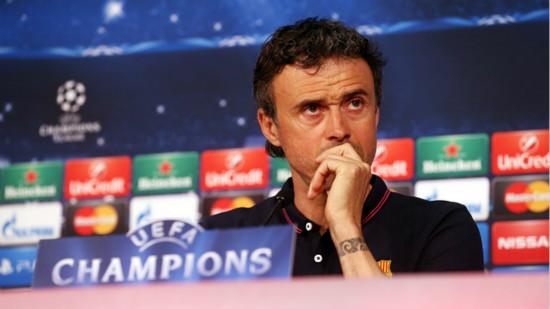 Enrique believes that Barcelona will not be playing in the Champions League semi-final second leg was "crazy", he preferred and opponents each control half of the ball.
Enrique emphasis praised Pedro and Rakitic.
Enrique: I advocate not only MSN Gongshoupingheng Barcelona
Beijing at 2:45 on May 13, Barcelona will participate in the UEFA Champions League 14/15 semi-final second leg at the Allianz Arena, against Bayern Munich. Barcelona 3-0 first leg win. Before the game, Barcelona coach Louis - Enrique conference in Munich attended by reporters organized by UEFA.
In this conference, Enrique emphasis Barcelona will concentrate on winning the race, he said: "We are now able to take this step is not easy to do, so we have to strive to good results, and must not relax our vigilance, We must strive for victory. "
Before Enrique speech, Bayern coach Guardiola at the press conference Bayern will try to control the game, Enrique said this: "A crazy game is not what we had hoped, we like and opponents each control half of the ball, even though we know it is not easy, but in a particular environment, we hope to do in the tactics, we will try to find space to break. "
Guardiola told reporters at the press conference praised Enrique, Enrique responded:. "If he really praised me, I would be very happy to get his coach appreciates this level is very good thing. "
Bayern comes to tactics, Enrique said: "They will certainly find ways to attack, Guardiola knows very offensive, attacking his opponents exhausted routine always according to the last game I will not be ready this game to me. will correct the error on the basis of the continuation of the habit of kicking. relax? this game in the Champions League semi-final, is unlikely to relax. On the contrary, I would like as much as possible to let the players to calm down. "
A reporter said that Barcelona has basically qualify for the finals, and Enrique responded:. "Bayern in the last round knockout victory is reversed, we must guard against this possibility, of course, we should try to be like the first leg played . it, "Enrique said:" In the first leg, the situation was very difficult to know at any time we will have problems, and we certainly hope that the results of the second leg of the same, like the first leg. ".
About Barcelona tactics, Enrique said: "Generally speaking, we can not take already applied to participate in a game before the game we advocate attacking mentality, but the defense is equally important to emphasize balance I have been at work, and this. is also an important reason for us to go now. only know that it will lose a lot of focus on attacking the ball, and stubbornly sticking can not win. Our players all agree that, in order for us to achieve Gongshoupingheng only goal. "
When talking about players, Enrique praised first Trident: "Messi, Neymar and Suarez are excellent, of course, our offensive line, there are other good players, Pedro is very good, the last round of La Liga League he had just scored a very exciting ball. "
Finally, Enrique praised Rakitic played well in the first leg: "He is a high-level player, has become a cornerstone of the team both technically and physically, he has the ability to Barcelona. effect. "