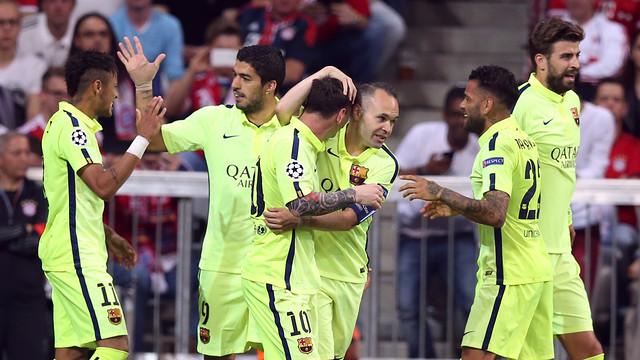 Iniesta and Neymar considered final encounter any opponent is not important.
Barcelona players also need to continue efforts to know
After the Champions League final cut on June 6 in Berlin, the Barcelona players are very proud, this is Barcelona in the last 10 years qualify for the Champions League final 4th. Iniesta said the team to another win three games to remain optimistic enough to win the Triple Crown, but the players also need to continue efforts to know.
Iniesta said: "We are in every season should be in a position very close to us to win everything, but we all left the last step in all three events.."
He continues: "Our goal is to reach the final, as it touches does not matter who we're playing, but we must not stop, we must try to win everything possible to qualify for the finals is great, but for the team and the fans, to win the championship. It will be even better. "
When talking about the game, Iniesta revealed that Barcelona has estimated that Bayern's tactics:. "We know they'll onslaught from the start, but we got the two goals we buffer opportunity."
"The second half, they are more eager to win. Most importantly, we once again qualify for the finals. We'll try to win the championship."
The following are the other players in the statement:
Neymar
"I want to congratulate the team for our performance. To score and qualify for the finals so I am very happy. This is great."
"Now we are only a step away from the championship. Locker room held a small party, but we still have important step to go."
"To be among the final is very important. As the face of the opponents does not matter."
Pique
"In the final against Real Madrid will be very exciting, it will also be a historic match."
"We have created an era. I'm very pleased to be part of this team. We'll be a long time to remember, now is the time to enjoy."
Alba
"Top teams win streak always more than defeat. We played a great season, we have entered two finals, now we want to try to win the league title."
"I hope Barcelona win the whole tournament. We have entered the Champions League final on Wednesday, we will see our opponent."