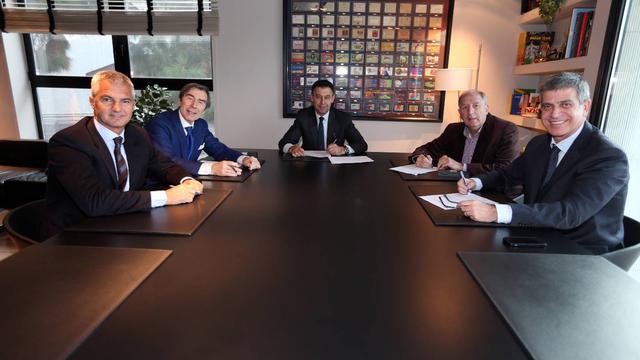 FC Barcelona announced the establishment of a new football Technical Committee, Vice-Chairman of Jordi - Mestre led members include Javier - Bo Dasi, Calais - Rexach and Braida.
AC Milan before joining Barcelona backbone transfer signings team
Thursday morning, Rexach and Braida formal contract with FC Barcelona, joined the newly formed Technical Committee. The committee is responsible for planning the first team next season personnel framework. Rexach worked for many years at the club, Braida has extensive international experience in the market, we believe that the cooperation will bring both of them successful.
Committee to communicate with the first team by coach Luis - complete coordination Lula - Enrique and youth academy director Jordi.
Jordi - Mestre was born on September 14, 1962, he studied and obtained the title of Master of Management at IESE Business School. He is the president of a number of resorts and hotels, including the Princess Sofia Hotel, Hotel Catalonia, Valencia hotels, resorts and Mediterranean - Don Carlos Hotel. Mestre also a member of the Executive Committee of FC Barcelona, is also responsible for futsal project, he was one of one of the representatives on behalf of the Spanish Professional Football League (LFP) and the Spanish Football Association.
Javier - Bo Dasi born March 3, 1961, a Master title at ESADE Business School. Boda Si is chairman of the Catalan Association of entertainment and dining, he worked in the family business of marketing Coymas.
Calais - Rexach was born on January 13, 1947, he was in the team for all FC Barcelona (including youth team and adult team), played a total of 665 games, scoring 211 goals. Rexach retired in 1981, joined the youth team coach and served as Louis - Aragones (1987-1988) and John - Cruyff (1988-1996) assistant. Braida was born in 1949 in Italy, AC Milan has worked in over 25 years (1986-2013), he was the principal architect of the team's legendary coach Arrigo