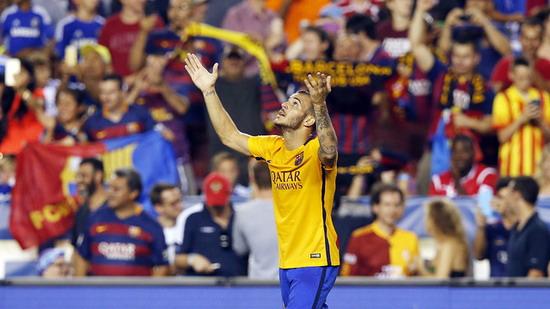 Suarez and Sandro's goal to help Barcelona 2-2 draw with Chelsea in 90 minutes, but in the penalty shootout defeat.
Barcelona 4-6 Chelsea: Suarez meritorious deeds
Barcelona and Chelsea in a friendly in Washington, the two teams kicked a penalty shootout. Tied the game 90 minutes into the 2-2 draw, Chelsea penalty before all four tablets into the penalty and, ultimately, victory. Before returning home, the two teams each will play another game.
Penalty shootout, two goals are not in Barcelona, ​​first Halilovic shot hit the door frame, and Hou Pike's shot was saved by Courtois.
For Barcelona, ​​the trip to the United States in this battle to beat the Los Angeles Galaxy, and then against Manchester United and Chelsea were defeated. Coach Enrique represents the preseason is mainly to adjust the player's status.
Azar brave
Azar in the first 10 minutes will help Chelsea to break the deadlock. Belgian striker's brilliant individual performances go past Rakitic, Douglas, Batra's defense, eventually penetrate Teershite root goal guarded.
Barcelona 51 minutes to tie the game, Suarez in the penalty area to capture the opportunity lob succeeded, Zuma goal line clearance by far. 7 minutes of Housangdeluo help Barca go-ahead score, and he a beautiful arc the ball around all Chelsea defender. Enrique's team seemed about to win.
New contest
With Cahill's header but Chelsea equalized late in the game, after Cahill was injured also in this goal in mind, because Barcelona goalkeeper Masi Pu Cahill injured in fighting when the bridge of the nose.
Chelsea's comparative advantage in this game is large, only 1-0 advantage in the first half mainly due to the Barcelona goalkeeper Teershite root of outstanding performance. Also Oscar and Diego Costa also has missed the opportunity of the first half.
After the game, Barcelona will be carried out in an international Champions Cup, against Florence.