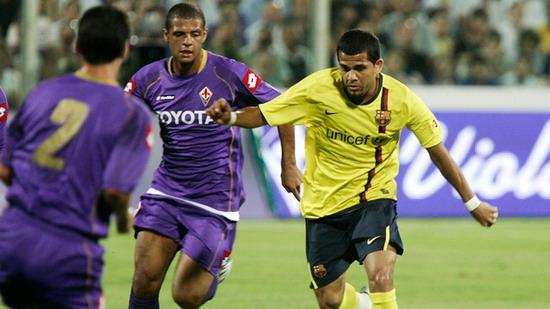 In the previous three meetings, Barcelona dominated.
Recalling Barca clash Florence overall dominant red and blue army
Barcelona on Sunday to visit Florence, for international Champions League final match. The competition will be 21:00. Florence get fourth place in Serie A last season, in the European Cup semi-final in Seville eliminated Juventus in the Italian Cup defeat.
The last time the two teams met was in the summer of 2008 and was the third game of the preseason. In that game, Barcelona won 3-1, goals from Carles Puyol, Jeffren and Bojan. Pacini Florence goals.
Three knockout
The two teams played against in the race only three rounds. The first was the Fairs Cup in 1964-65 season. The first leg 1-0 at the Nou Camp Italians, but Barcelona 2-0 to win the second round will be eliminated Florence.
Second meet in the 1996-97 season, is in the European Cup Winners' Cup semi-final first leg 1-1 at home by Barcelona draw, Nadal scored for Barcelona, ​​Batistuta scored for the visitors. Barcelona 2-0 second round win over again, Guardiola scored one goal. This season the Catalan cup final.
Most recently in 1999-00 season's Champions League group stage. At home, Van Gaal's team 4-2 win, which Rivaldo scored twice, Enrique Luis Figo and scored a goal each. Away to Barcelona and Florence tie the game at 3-3.