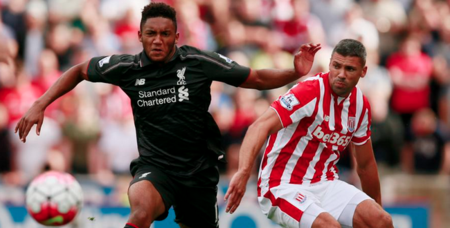 Liverpool teenager Joe - Gomez in the first round against Stoke City in the Premier League in his debut match, he said that never dreamed of this moment.
The 18-year-old players starting as left-back, the team is also 1-0 beat. Gomez came from summer to join Charlton, he expressed gratitude for the help the coach and teammates:. "It was a great experience, especially in the final moments to win the last few months, I never thought the opportunity come so soon. "
"I want to thank the team and the coach gave me a chance to play well for the team competitions, this is the most important. I joined Liverpool One of the reasons is that Rogers is a great coach, he gave a lot of young players opportunity, I appreciate it. "
Speaking defeat rivals Liverpool game last season, Gomez said: "This will make the team more motivated, I do not think the past is a negative thing, we all as a driving force, which allows even more important victory ʱ??
In addition, the England U19 striker also praised the team spirit: "locker room atmosphere is very good, we all get along, hoping to get something in this season as we have a great sense of hunger, I hope we can finish. some of the achievements. "