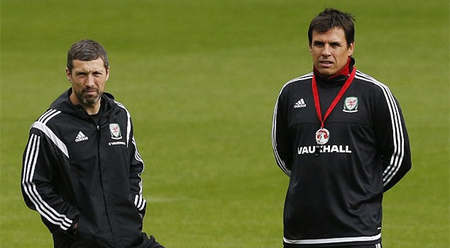 Wales coach Coleman said he appealed to the outside world before the European Cup, in England and Wales in a friendly, decide who is the best team of the British proposal, welcomed.
Currently, the Welsh FIFA ranking 9, England is the first 10. Just four years ago, or 117 ranking Wales. Wales and England hope for the outside world to a duel appeal, Coleman how very welcome.
"We are all willing to work with England to a field, because they are a great team, a powerful destructive team in world football. I'm sure to have a friendly match between if we have the opportunity, we We will actively participate. "
"Our world-ranked higher than England on the topic, the outside world has been too much discussion, but the ranking does not guarantee that we reached the European Cup in France. For now excellent qualifying situation, of course we will have easy smile, but my attention upon the European Cup in France. "
Wales and England first played against, or in September 2011 the European preliminaries, then with Ashley - Young's goal, England's 1-0 win over opponents. Prior to this, England in 2006 World Cup in a 2-0 victory over Wales twice. Since May 1984, Wales has not beaten England. If both teams do not need to participate in playoff, smoothly into the European Cup race, then in November of this year, we can hold such a friendly.
Welsh legend, former Tottenham winger Cliff - Jones said, "Even in this friendly match play tomorrow, Wales also win the next England and Wales to understand their own level, has enough self-confidence, the team has a lot of outstanding players. especially the Bell. "