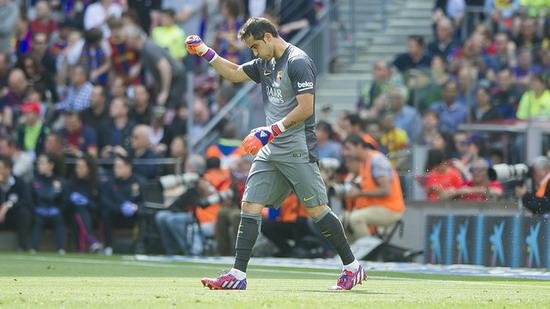 Bravo get Zamora.
This season he has 23 games zero closure opponents, beyond Valdes and Zubizarreta's record.
Bravo is eligible for his first Zamora other two record refresh
Bravo plays an important role this season in La Liga Barcelona journey, eventually lost the ball, averaging a minimum number of Zamora won his first individual award.
Bravo this season in 37 league games, lost only 19 goals, ahead of second-place Valencia goalkeeper Alves --29 ball. Bravo did not participate in the final round of the league, the opportunity to leave the Masi Pu. In that game Barcelona lost two goals, a clean sheet of the season total to 21 goals fixed number. Deportivo league record in the 1993-94 season to create, lost only 18 balls.
Bravo averaging 0.51 goals ranked third in La Liga history, behind the 1993-94 season and the 2010-11 season ball Adriano 0.47 Valdez 0.5 balls. But Valdes that season and played only 32 games.
In addition to Zamora, Bravo refresh two record this season. He will start the season without conceding a goal record of Barcelona was extended to 754 minutes, another clean sheet streak to 23 games to refresh.