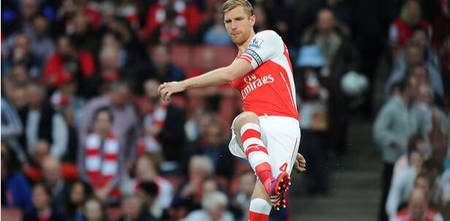 Arsenal defender mertesacker said the team manager Arsene Wenger has not slowed the pace of progress, although he has coached in the top flight nearly 20 seasons.
Wenger in the past year implemented a series of major changes, Mertesacker expressed great appreciation for the coach's ideas. Wenger decided to sign the German national team fitness coach Forsyth is considered very successful team in the second half of the season basically maintained the lineup intact.
Mertesacker said: "The manager did not stick to the same old by signing new players he changed a few things, but also changed his diet, he adjusted his coaching team, he signed a number of young players, he needs. fresh blood. Video analysis has also been changed last summer, Forsyth from the German national team to join, he added to the team. "
"These examples show that he is willing to accept new things, willing to take advice. He has not lost so many strengths is his charisma. He is very calm, that's what he brings."
Arsenal's start to the season is not satisfactory, the team in October - December 9 games between the four also suffered a defeat, but Mertesacker always coach confidence. He continued: "I have seen many times outside of Wenger to question, but I think this is very normal in a club in the title race."
"But we responded to the challenge with some of the results. By doing so, not just the team, the coach of the situation will improve."