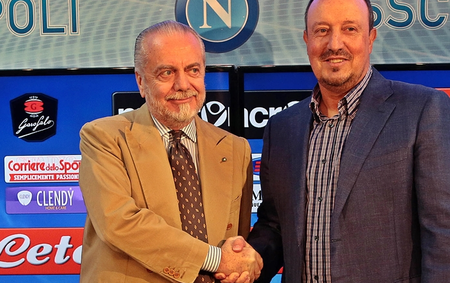 In a news conference Thursday afternoon local Italian base in Naples, in addition to talking about the coach Rafa Benitez's departure, chairman Naples DeLaurentis also talked about the future plans the club, including stadium rebuilt and priority youth culture.
He said: "This year I've been rebuilding Naples made a mistake I was too close to the fans of expression instead of a club president at the beginning of the season so I have said that we want to win the league title this is the sixth year we have?... continuous access to the cup-tied. on the construction of an international team of program will be planned, and in fact we have only one-third of the funds Milan, Borussia Dortmund, Juventus this club in this season, we lost 20 million, but this does not mean that we move forward from a stop in the May 31, I will be the renovation of the stadium to the city goes to plan, I hope that in 16-18 months to achieve. "
"In 11 years as chairman of the club, I want to expand my plans, on local youth. I want to build a first-class youth base, the same as some European giants Barcelona had not won the championship for some years, However, in Barcelona's youth culture in a Macy such great players, they have been successful. Naples is a complicated place, in addition to waste and pollution accident, the police do not give civilians to help. If I was in Germany or England, We may have won the league title or a Champions League, who knows? "
"We have been in UEFA's ranking was only 46, and now we are ranked 20, than Rome, Milan, Inter Milan, Liverpool, Sevilla are higher."
When asked about the new coach candidates, DeLaurentis said: "We have to decide as soon as possible coaching candidates I swear I will not find a general level of coach I'm going to my film conference, so I came back. I will again talk about this issue. The new coach must be the same as Benitez liked my idea. "
"Do I have favorite coach? How could I! I could for a woman at first sight, but the coach would not it."
When asked about the club's sporting director than tribute fate (rumors that he would go along with Benitez Real Madrid), DeLaurentis said:?. "Tribute than six years later, he also wanted to change the environment that he is north people are in Calabria and Campania region spent so many years. "