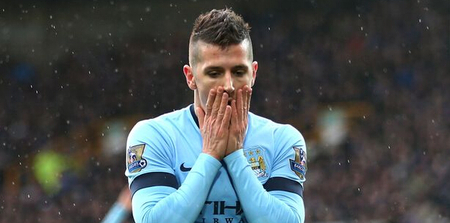 Manchester City striker Vidic for coach Manuel Pellegrini did not let him practice squad selected for the Champions League dissatisfied.
With Manchester City £ 28 million signing from Swansea Bernie, Vidic eventually losing the Champions League squad. Manchester City striker stressed that Montenegrin coach Manuel Pellegrini on this matter made the wrong decision, and now he will evaluate his future at the club.
Vidic said: "I should participate in the Champions League, I know this is the coach's decision to sentence me to death I think I ought to take place, so everyone else said to me, they told me I was... a good player, but obviously the coach does not think so. I am very disappointed, I do not think this is the right decision. I know I should go into the big list. I told the coach that point, but he does not want to hear me say that. I came here just to participate in the Champions League. "
Last month, 25-year-old Vidic is Inter Milan signings goals, but he is now also attracted the attention of the eyes from Juventus. He continued: "I have not made a decision about my future, I'll wait until the summer, and then see what happens but I'm not the coach's preference, so maybe this is his message as such... what happens when you can hardly stay focused, but I am a professional player, I want to be able to prove himself this season, you can still play an important or so. this is a difficult time for me, but I will work hard. "
Due to UEFA's financial fair criteria, Manchester City's Champions League enrollment dropped to 21 people, and Bernie increase meant the team had to give up a player. Vidic said: "I spent a whole one week of their time thinking about our game with Barcelona, I think it's very difficult for me."
"I think I helped the team qualify from the group stage, so I voted for the squad is very disappointed. I think every race this year myself playing well. I've scored five goals in the league, and is in the case of little playing time. "
"I know we have disappointed, this is football, but I feel like I'm really heartbroken. Indeed the number of personnel required to reduce the team squad, but the club early in the season to know that. I do not feel that they have gained the opportunity. indeed, I am affected by the injury, but others too. "