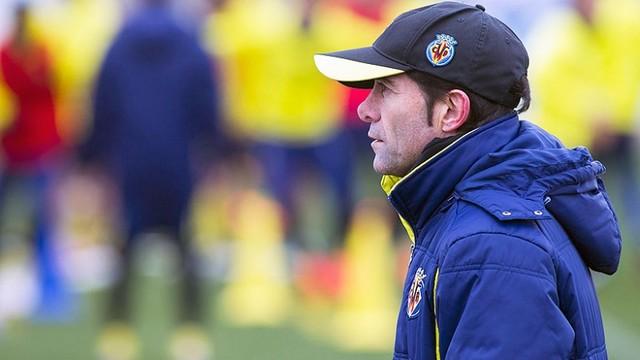 Marcelino well lose the first leg at the Nou Camp two balls ready.
Marcelino praised Barcelona small range pass level is the world's best. Marcelino: Barca best in the world and strive to freeze trick Messi 2014/15 season, the Spanish King's Cup semi-final first leg match will be in Beijing at 3:00 on February 12 started at the Nou Camp, Barcelona's home game against Villarreal. Before the game, Villarreal coach Marcelino appeared before the media. Marcelino has extensive coaching resume is a Spanish coach, has coached Lita De, Sporting Gijon, Recreativo, Racing, Zaragoza, Sevilla and Villarreal .
Marcelino told the reporters: "This can be rounded out the semi-final with Barcelona against, for us, that in itself is a great thing to know that two years ago, our team is still in the League."
Speaking of Barcelona, Marcelino said: "to enter the semi-finals of the team, only the last two steps away from the final first leg match is crucial, if we can get a good score, then we will be great opportunities to qualify for the finals. increase. we know that Barcelona are favorites, we will face the best team this season. of course, we are also ambitious, and let us see if we can compete against the best team in the league again. "
Marcelino said: "We know that, in order to keep a clean sheet in the Nou Camp is difficult, however, we must strive to score, especially the anti-lived Macy our players must be strong and hard to run."
Barcelona recently spoke good condition, Marcelino said: "Barcelona in the attack added a new idea they not only take advantage of the ball, and even other weapons to kill the game they are in tight football today. within the range of the best passing team. they make three strikers Villarreal 7-8 defensive players headache. we want to make the Barcelona striker who spent a bad day. "
Marcelino said: "semi-final two rounds of the game, if you can win in the first leg are perfect, but even if we lost 2-0 to Barcelona in the Nou Camp, our promotion hopes still exist the most important thing is to enjoy the game, kicked a high level, so we can say to others, we and Barcelona kicked out of a great game, this is our dream. "