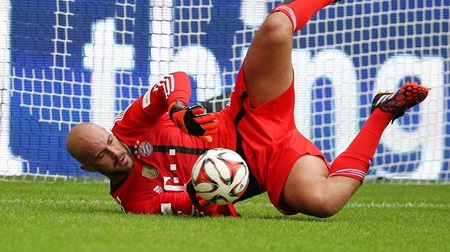 Eight months after joining Bayern, Spain goalkeeper Pepe Reina has never played in the race, the German Cup this week is a good opportunity for Reina. Speaking Reina coach Guardiola played when possible, said: "Maybe yes, probably not."
Reina last summer transfer from Naples to Bayern Munich, then as Neuer has no chance to play off the bench. Although Guardiola liked adjust lineup, but the goalkeeper position never changes occur. Reyna played this season, the only game is against the fans, and indeed in that game Reina muscle injury in a friendly and rest for a few weeks.
When it comes to Reina Will this week's German Cup appearances, Guardiola said:. ".. May be, it may not, of course I do not know the possibility is certainly there." In addition it is also a goalkeeper Stark did not get the opportunity to play this season, he is perhaps one of the possible choices.