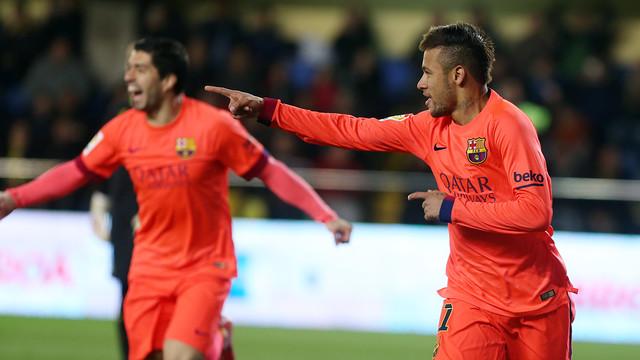 Neymar scored twice and Suarez's goal to help Barcelona qualify for the King's Cup final.
Barcelona in the first leg score copied to two round total score of 6-2 to qualify.
Barcelona once again qualify for the King's Cup final. Neymar after opening just two minutes on the first break, two minutes before the final whistle, the Brazilian striker scored again to help Barcelona in the King's Cup semi-final second leg with 3-1 victory over Villarreal.
Suarez also scored a goal to help Barcelona to two round total score of 6-2 at El Madrigal Villarreal eliminated. Jonathan - Dos Santos as the team pulled one back minutes, but Villarreal in 25 minutes of playing time, a few people, because Pina vicious foul on Neymar's red departure. This is not the only Barcelona player suffered a flagrant foul, Busquets because Alpena fierce Chanqiang and ankle injury was a stretcher off the court. Busquets then returned to the bench, but his injury is still unknown.
Ball Lightning
While many fans just sitting in the audience, the Barcelona has successfully break the Villarreal goal. Mascherano pass the ball to Messi, Argentine midfielder precise cross, Neymar after the offside goal guarded Dianshe break Asenjo, stands silence.
Yellow Submarine swift counterattack, Qielishefu, Bi Aituo and Uche won three close scoring chances, but they were shot Teershite root closed out.
Equalizer
Busquets of an injury resulting in Villarreal equalizer. Barcelona midfielder pain when lying on the ground, after receiving Costa's cross, dos Santos in the 39th minute to rewrite the score 1 to 1.
Seal the victory
After the intermission, with a total score of 2 to 4 behind Villarreal still to attack. Pina, 65 minutes vicious foul on Neymar eat the red card, he fouled out to let the home team took a hit.
Although the home team cut little hope, but Barca did not relax. The first 72 minutes, Barcelona got three dozen a chance to counterattack, but Neymar did not choose to pass, but his shot, but was Asenjo brave closed out. Three minutes later, midfielder Javier Mascherano pass again, after Suarez sprinted to get rid of Tui Asenjo into the empty net, Barcelona 2 to 1 lead.
Only 10 players, and 2 to 5 behind, Villarreal has been dejected, but the first 88 minutes for Barcelona Neymar scored again. Harvey beautiful cross, Brazilian striker calmly break to help Barcelona nearly seven years to qualify fifth Copa del Rey final.