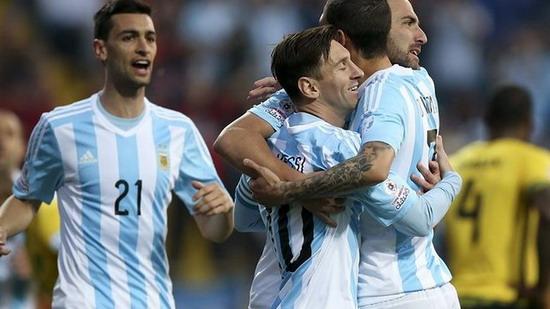 The first half Higuain's goal helped Argentina win the Group B first name.
Messi (micro-Bobo-off data) to complete the first 100 game in the national tournament personal, campaign he's ready audience.
Jamaica 1-0 Argentina: Messi completed a hundred show
Messi celebrate individual national competitions to reach 100 games also help the team to 1-0 win over Jamaica smooth round. The first half Higuain scored the only goal of the game, Argentina will face Ecuador in the knockout, or Brazil, Peru, Venezuela, Colombia any one team. Argentina won the America's Cup dates back to the first in 1993, they went undefeated in the tournament, but they also face Jamaica played very hard. Messi and Javier Mascherano (data) Third consecutive ready audience, then they will get nearly a week of rest.
The game, Martino sidelined, there are two adjustments in the starting lineup, Demichelis replaced Otamendi, Higuain replace the injured Sergio Aguero.
Higuain Jiangong
Argentina knows to score early, can reduce stress, but the game also do so in the first 10 minutes to break the deadlock. Messi left the ball, Di Maria after cross into the restricted area, Higuain calmly launched into the bottom left corner. The first 23 minutes, Higuain almost extended the score, but his shot hit the door frame. Jamaica's best player is undoubtedly the goalkeeper Miller, he is almost single-handedly resist the offensive again in Argentina, before the end of the half he saved a Di Maria's shot.
Tense second half
Soon the second half Di Maria will have a shot hitting the woodwork in the 57th minute Messi lob Miller and saved. Jamaica then complete the game first shot hit the door frame range. Then Carlos Tevez off the bench, and there is a break opportunity. Final scoreboard 1-0, Argentina do so knockout.