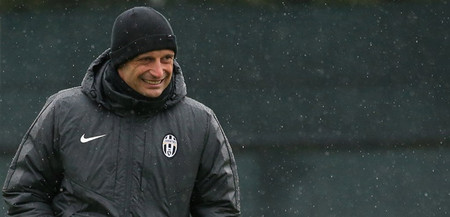 Coach Allegri said Juventus will not have a hangover after the Champions League qualifying, and will focus on the clash with Genoa, but "we do not have to do our best."
March 22, Juventus will be at home against Genoa.
"We're definitely not going to eliminate Dortmund and hangover," about 3-0 Hornets beat the game, the coach smiles at a news conference. "We did a great job, to achieve the goal of qualifying, and now we have to be ready quarterfinals. If Monaco can go so far, which means that they very strength, after all, is not easy to be eliminated Arsenal . "
"We are very lucky in the Champions League draw? I think the expectations may be upside down. Maybe other clubs also relieved that they did not able to get us."
Conti did when he took the pointer, a lot of fans are not optimistic about him, and now it is already Allegri Juve?
"I'm sure this is 100 years Agnelli Juventus ...... I believe my work, just find the balance, the strength of the team will be revealed. We-form, but not the best state. In this journey among our ambition has also been improved and became the top eight teams in Europe. "
Juventus is currently second in the Serie A standings with 14 points ahead of tomorrow afternoon's game against Genoa, they are expected to further expand the lead.
"It was a difficult test, Genoa beat this season we have. They also have a full week to prepare for this game, so we need to come up with the best performance. Genoa won 20 points on the road, at 7 Fractional away behind the case next time. We can not underestimate any game, especially against a gritty Genoa. "
"The game and the future international competitions this season, two games will determine the final movements, and we do not want trouble. If we play well these games, then we can focus on the Italian Cup semi-final and the Champions League quarters One final contest with Monaco. Now we must bite the bullet than three months ago to be superior performance. "
Allegri same for Italian football defended, emphasizing 14 points behind the other team does not mean poor performance:. "I do not agree with this slander Serie A, this is a very tough league, if there are three Italian teams Europe still campaign, which means that our football is not as bad as you think. "
"In Italy we often feel depressed, underestimate our own ability. This is a different era, think is normal, but the Italian football has been at a high level, this is a good sign."
Boba will be out for about two months, but Allegri confirmed Matri, Marchisio and Stu La can play, but Pirlo will return later in the national competitions. Barzagli missed eight months also restored to health, and may get the national team call-up this week.
"In this stage of the year, those who did not get much playing time, players can prove himself. Rome is still expected to champion, but I think the 83 points needed to win. I have any suggestions to Garcia? No, never wins in Italy will be easy, especially in a big club coach, everyone on your picky. "