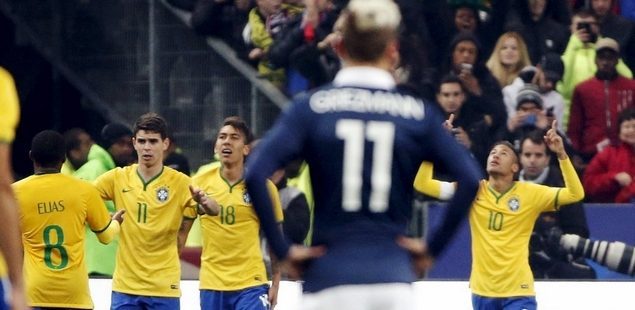 March 27 4:00 am, an international soccer warm-up match at the Stade de France start competing, Brazil 3-1 away to France. Guevara in the first half header nets, France took the lead after the Oscar for Brazil to tie the game. Brazilian Gustavo second half by Neymar scored twice and reversed the score.
Focus Lens:
21 'Guevara head start in the header
40 'Oscar scoop shot to tie the game
57 'Neymar dipped ahead score
69 'Gustavo header to seal the victory
France nearly seven times against Brazil only a negative field. The field Benzema as France captain, Valbuena and Gelieziman separation on both sides, Mandanda guarding the goal. In Brazil Neymar starting debut, three Chelsea players in the starting lineup. After opening the two teams pitted against each other. The first seven minutes, the left corner opportunities in France, point of access Guevara after Benzema header ferry, in front of the Jefferson flying close range header was saved. The first 20 minutes, after Oscar steals forward pass, Nei Maer restricted area on the left foot Tui was Mandanda saved. After 1 minute, the French took the lead! Valbuena out on the left corner, Guevara vigorously within the rear plug header, Jefferson put out less than the lower right corner the ball flying into the goal after the bomb, 1-0! Brazil to strengthen the attack after conceding. The first 29 minutes, Phil Mino peripheral fired, a record high-quality long-range Mandanda saved. The first 40 minutes, Brazil to tie the game! Phil Mino closed perimeter Zhisai Oscar Chan She left broke into the restricted area fell to the ground, 1-1! Halftime score 1-1.
Easy side battles. The first 56 minutes, William out on the right corner, Tiago - Silva header just wide. After 1 minute, Brazil ahead score! Brazil's frontcourt fast attack, after William Road, left the restricted area to promote accurate stuffed oblique, high-speed plug Neymar foot towards the ball dipped nets, 1-2! Continuous manufacturing threat behind France. The first 60 minutes, Valbuena out front kick, Guevara within the header wide. After 1 minute, Benzema right pass, after the point in front of the Tui was Sissoko Jefferson denied, then Benzema restricted the right of small-angle small Dianshe again over the bar. The first 69 minutes, Brazil scored the first three goals! Brazil right corner opportunity, Gustavo rear plug header boom gate nets, 1-3! Since then the formation pressure France dominated possession but the attack is still not very effective. The first 87 minutes, the hole more Shakespeare left instigated offensive, kick the ball restricted the transfer of the right of Houfeijier oblique, the ball struck the far corner of the bottom line. Overall final score 1-3.