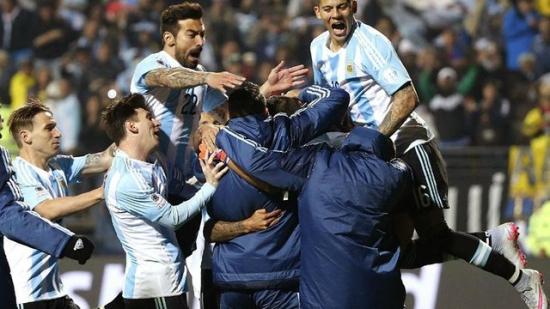 Messi and Javier Mascherano to lead the team successfully eliminated Colombia.
Argentina penalty shoot-out in Colombia
In the penalty shootout 5-4 after defeating Colombia, Messi and Argentina do so semifinals. Within 90 minutes, tied the game 0-0, thanks to Colombia Arsenal goalkeeper Ospina dissolve several Messi's shot. Although there is no score, but Argentina played the best game of the tournament.
Messi is blocked
Otamendi and return to the starting Aguero, Martin Demichelis, Higuain temporarily return to the bench. Argentina opening will take the initiative, forcing Colombia in the first half they made substitutions adjustment, replaced Cardona Gutierrez. The best chance of the first half in the 26th minute in Argentina, Sergio Aguero's shot let Ospina made brilliant saves, Macy unexpectedly shot up again to be saved.
Penalty shootout
Colombia is still the second half performance tenacious. Argentina has replaced Carlos Tevez and Banega. Carlos Tevez 13 minutes before the end of the show had a shot saved by the woodwork and Ospina. Final game into a penalty shootout, Tevez scored the winning goal.