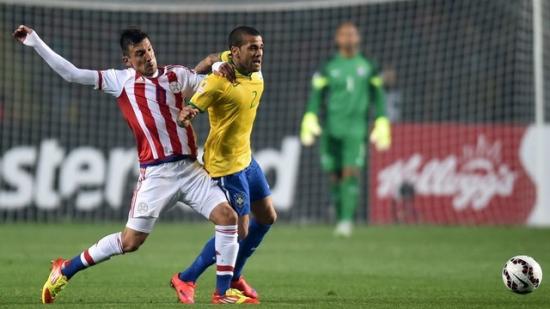 Alves pass in assists Robinho opened the scoring, but Gonzalez scored second-half penalty to make the game entered the final penalty shootout. Brazil again penalty shootout defeat.
Brazil's penalty shootout defeat to Paraguay halt America's Cup quarter-finals
History is always strikingly similar to Brazil once again fell before the penalty shootout. The first 14 minutes, Alves assists to help Robinho opened the scoring. But they did not take advantage of this good start, the next game in Paraguay gradually restore confidence in the second half from the penalty spot Silva Gonzalez caused handball help Paraguay equalizer. Penalty shootout, Ribeiro and Douglas has lost a penalty shot, and Santa Cruz also to Paraguay shoot throw a ball. All penalty into the final round of the two sides, so Brazil lost by 3-4 in a penalty shootout. Semi-finals, Paraguay will face Argentina, another against both Chile against Peru.
Robinho scored early
In this quarter-final, Dunga same formations and beat Venezuela 2-1 battle. Alves served Bianwei starting again, Robinho is also to continue starting. The first 14 minutes, the two players to complete with the help Brazil lead. First Elias ball to Alves, who helped pass accurate Robinho scored 30 goals in his first national team.
Paraguay buckled
Before opener, Coutinho had let Paraguay goalkeeper Villar made a spectacular save. After the ball from Paraguay buckled gradually play his style, Santa Cruz, Valdez has to pose a threat to the Brazilian goalkeeper Jefferson.
Gonzalez deserved penalty king
Gonzalez 72 minutes of the second half to tie the game from the penalty spot. Paraguay then take the initiative, Jefferson dissolve several threats, where the first 80 minutes at close range saved by Gonzalez's shot.