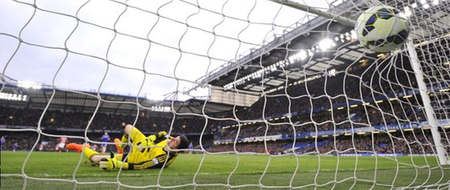 Round of Premier League, Chelsea beat Stoke City 2-1, but the game, Stoke City midfielder Charlie - Adam a mind Frightening halftime break lob 65 yards away, to become the biggest highlight of the game, Chelsea goalkeeper library Ertu Wa actually can not do anything.
After the game, Adam called this goal "once in a lifetime", "I never knew I had this ability to beat like this outstanding goalkeeper Courtois, this is really very special. I will always remember this feed ball, and very fortunate to scoring this goal. For you, this kind of thing is likely to happen only once a lifetime, from a personal level, in such a way can harvest my first England match 50 goals This is great. But the team lose, it makes one feel a little disappointed. "
For Adam's goal, Chelsea coach Jose Mourinho said, "This is an incredible goal, each player in the world wants this goal scored from Maradona to Messi, again to all the talented players in their career, failed to score in such a way, this is really a great goal. "
Stoke City boss Mark - Hughes said, "For Adam, it was a fantastic goal, he has this ability, but also to show up today, he was always trying to do such things. Because he is very confident in his ability. He has a new year, and when the shot is always very neat. "
As the "Race Day" program football commentator, England football legend Alan - Schiller said, "This is an incredible shot, you can see Courtois away from the goal line, his vision is extremely broad, and then connect the perfect action Flawless. I'm pretty sure he knew it was a good try, this is a very great ability. This is the best distance I have ever seen in the Premier League to break, because it is the farthest and beat the best goalkeeper in Europe. "
It is worth mentioning that this is not the first time Adam scored from own half, 2009, he was loaned to Blackpool team in Blackpool and Accrington in a reserve game, he scored a grain similar The goal, unfortunately at that time very few people an insight into the goal.
Imagine, Adam fantastic goal in the social media also triggered a heated debate. QPR captain Joey - Barton said, "Charlie - Adam scored a wonderful goal ah how the whole season is hard to find better than this goal." Former Stoke City midfielder Matthew - Esther Warrington said, "This is the best goal I have ever seen, absolutely want bowed, incredible shot!" comedian David - Al Badi said, "Do not forget, Bailey also tried this shot, but he did not succeed ...... "