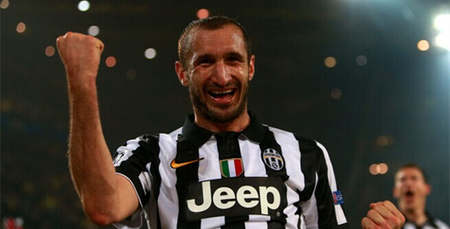 Defender Chiellini admitted after the game, beating Juventus 3-0 in Florence guest into the Italian Cup final results "exceeded our expectations."
Juventus 1-2 home defeat to Fiorentina in the first leg of the race, ended the tournament at Juventus Arena 38 wins, four draws undefeated, but in the second leg of the contest woman and cut the Italian Cup victory over rivals finals.
"To be honest, it far exceeded our expectations!" Chiellini told RaiSport. "The whole 90 minutes we were in control of the game, all no doubt. The game proved worthy of playing every player in Juventus."
"We want to put the game in their own hands, rather than be under a high-paced game, and gradually to Florence pressure. After the first leg of the contest, we need to know how to suppress them. We're trying to spread the floor and back hit them, they are a good passing team, with more than skilled players pass the ball, but when you win back the ball, you can pass them back to make trouble. "
Salah scored twice in Turin, but tonight he played a relatively quiet: "Salah very fast, but if you start before he would hinder him, you're locked up with his advantage. than we guard action before he is close to us, Stu La midfield, Marchisio and Vidal has been well confined him. "
Because of a radical protest penalty corner, and Chiellini was the referee produced a yellow card:. "I want to ask what happened corner area, I think this is a very clear, but the corner, and then I lost my cool, and got a stupid yellow card. "
Subsequently, the Italian international Asked Juventus won the Triple Crown of hope: "There are two months of competition to be, we need to seriously go all the way to work and give you the confidence to win the Scudetto and the Champions League. the better. This is the dream of fans, but we need to think of a game, and I think our advantage is that we only focus on the next game contest. "